Design thinking, experience design or service design. Sometimes our playing field seems to be dominated by jargons. Pretty similar terms but what do these words actually mean? And why is it worth to understand?
The boundaries between physical products and services are blurring and, in most cases, one doesn't exist without the other. We need to think in systems and understand the ecosystem in which services and physical products operate. The ultimate goal is to create great experiences that your customers are willing to pay.
A good definition of service design in "This is service desing thinking" book by Marc Stickdorn and Jakob Schneider is as follows:
"Service Design is a practical approach to the creation and improvement of the offerings made by organizations. […] It is a human-centered, collaborative, interdisciplinary, iterative approach which uses research, prototyping, and a set of easily understood activities and visualization tools to create and orchestrate experiences that meet the needs of the business, the user, and other stakeholders."
When it comes to design thinking, it's more about a mindset, a way of thinking. It is about using a process of diverging and converging to solve a wide range of problems. Service Design is mostly practiced by designers. It makes use of more elaborate and extensive design methods, focuses on the development of services and can directly impact all touchpoints of an organisation. Applying tools is important and business objectives are service related, like increasing NPS or reducing churn.
Principles of Service Design:
In their book, This is Service Design Doing, Marc Stickdorn and Jakob Schneider, collected six key characteristics of the service design approach.
These six principles of service design doing are:
Human-centered: Consider the experience of all the people affected by the service.
Collaborative: Stakeholders of various backgrounds and functions should be actively engaged in the service design process.
Iterative: Service design is an exploratory, adaptive, and experimental approach, iterating toward implementation.
Sequential: The service should be visualized and orchestrated as a sequence of interrelated actions.
Real: Needs should be researched in reality, ideas prototyped in reality, and intangible values evidenced as physical or digital reality.
Holistic: Services should sustainably address the needs of all stakeholders through the entire service and across business.
Business Impact of Service Design:
McKinsey & Company conducted a research on what they call 'the most extensive and rigorous research' into design. They assessed 300 publicly listed companies and measured how well they integrated design in their company and compared that with their financial performance.
Companies that put design at their core increase revenues and shareholder returns at nearly twice the rate of their peers!
Conclusion
Service design is a mindset, having outside-in approach and passion for the customer and improvement. It is also a tool set, helps you to explore possible problems and opportunities. Service design is also a structured process and a cross-disciplinary language with the customer at its center, breaking silos and with the customer at its center, and stimulates collaboration between departments.
https://www.mckinsey.com/business-functions/mckinsey-design/our-insights/the-business-value-of-design
If you want to learn more about cases where Alterna CX Voice of Customer solution was used for service design, contact us at expertopinion@alternacx.com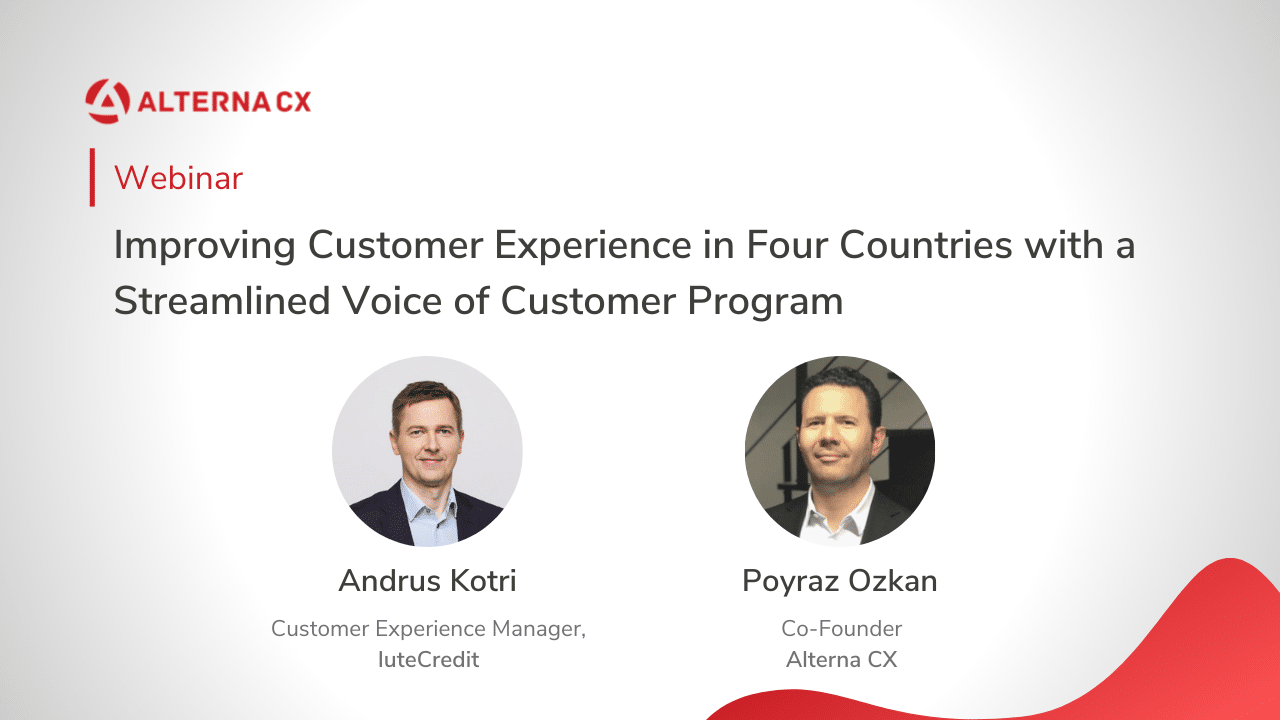 Webinar
IuteCredit: Improving Customer Experience in Four Countries with a Streamlined Voice of the Customer Program
On our best practice webinar series, we are joined by Andrus Kotri, Customer Experience Manager at IuteCredit, to discuss how they've transformed their company culture through a comprehensive voice of the customer program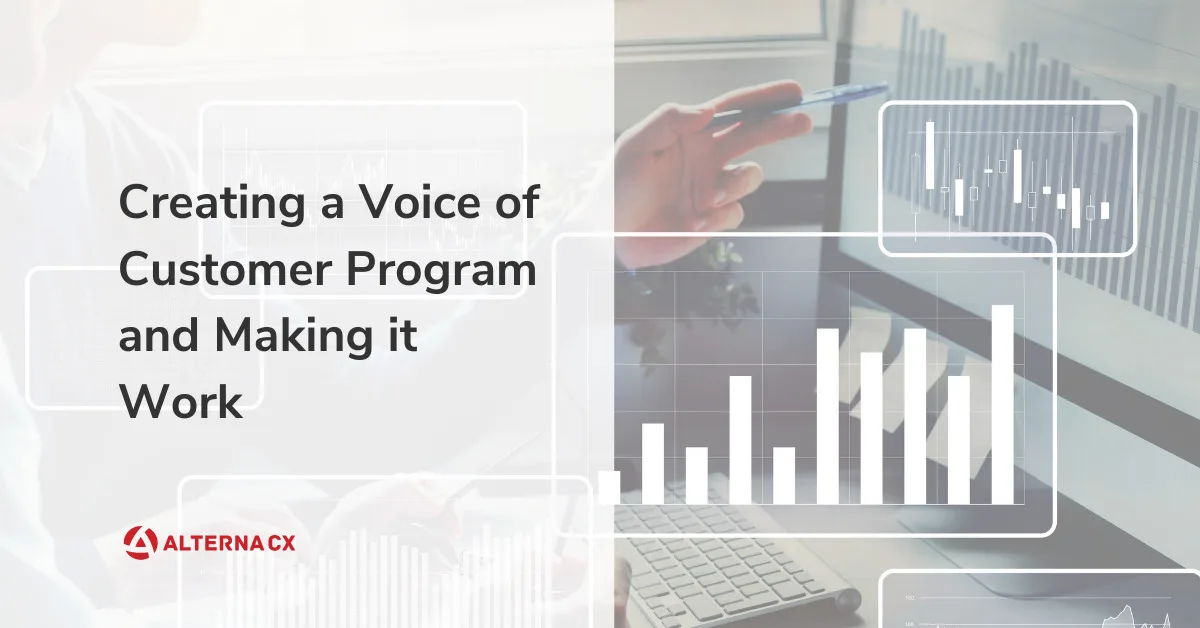 Blog Post
Creating a Voice of Customer Program and Making it Work
 Simply, Voice of Customer (VoC) refers to the process of collecting customer feedback about a business, its products and services. Many companies believe that they have a VOC program in place, because they collect customer feedback through surveys. In reality, they don't.There is a lot more in a VoC program than simply sending out surveys.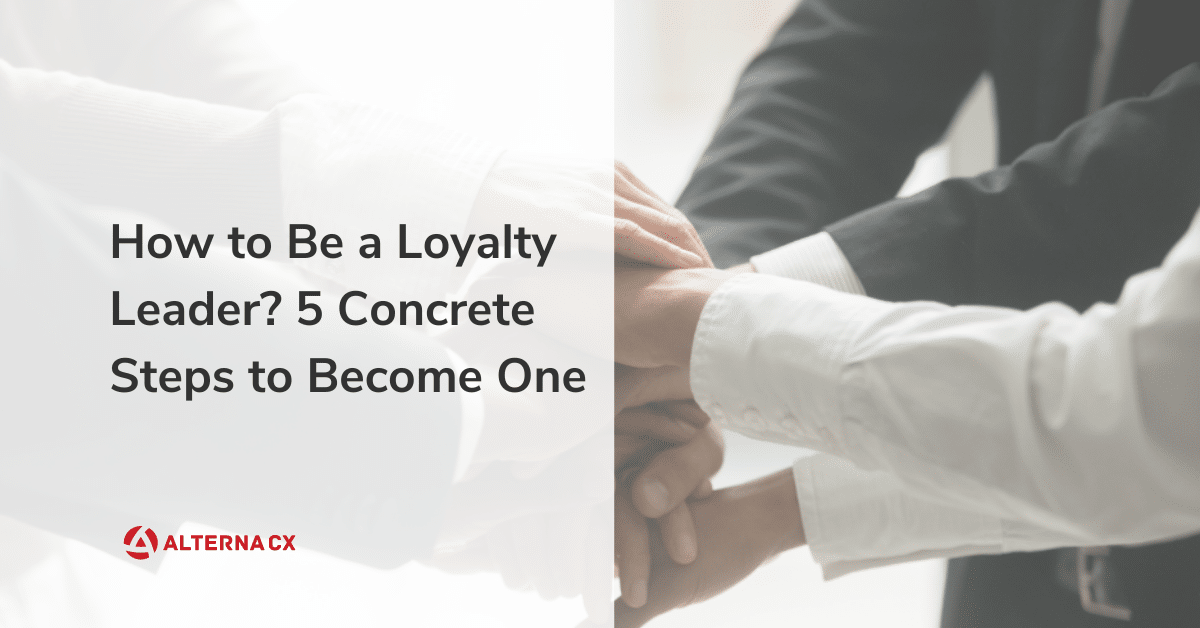 Blog Post
How to Be a Loyalty Leader? 5 Concrete Steps to Become One
 4 years in a row Amazon has been listed as the loyalty leader in the US according to Brand Key's latest annual loyalty study. What puts the companies at top of the list is simple: for these companies; Customer Loyalty is more than a marketing term or KPI to measured but it is an asset to be developed.
 With increasing competition across industries, it is more important to understand what customers are thinking about the products and/or services provided by companies.
Voice of Customer program enables companies to systematically capture, track, and analyze customer feedback and act based on the collected insights.