Short-termism*: Short-termism refers to an excessive focus on short-term results at the expense of long-term interests. Short-term performance pressures on investors can result in an excessive focus on their parts on quarterly earnings, with less attention paid to strategy, fundamentals and long-term value creation.
You might wonder why we have started our article with a definition that looks financial in nature. But let's first agree that year by year most of the C-Suite executives are under increasingly brutal earnings pressure, and they often feel the urge to produce quicker returns often at the expence of product and service quality. This short-termism erodes loyalty, reducing the value customers create for the company.
As CX practitioners, we are usually eager to talk about "CX is the new battleground or New era: Age of the customer" type of discussions within the company. However, when faced with numbers-oriented C-Level executives, it's not easy to steer the discussion with theoretical knowledge about CX. Even though they are familiar with those Forrester, Gartner or HBR reports which are very clear about the importance of CX for the companies. Some of the common economic benefits of CX described in these reports that C-Level can also agree on are:
Increased customer loyalty: When companies deliver a good service experience by solving customer problems quickly, their customers are multiple times more likely to stay with them.
Higher turnover potential: Customers who have better experiences visit more frequently and spend more with a company.
More new customers: Recommendations bring in new customers without marketing-related acquisition costs.
Reduced customer service costs: Higher quality experiences mean fewer customer issues to resolve.
A recent Forrester research also states that the value of better customer experience is rewarding:
Customers are…

2.4x more likely to stay when companies solve customer problems more quickly

2.7x more likely to spend more when companies communicate clearly

10x more likely to recommend when employees in physical locations answer all customer questions
Unfortunately, these facts and figures don't help CX professionals when it comes to asking more budget and resources from senior management for their projects. A solid business case is often needed to prove the linkage between CX and ROI and make decision makers feel comfortable to invest more in CX.
Proving the ROI of CX is challenging but not impossible. As CX professional, once you make this happen, you not only get more resources to your project but also strengthen your CX team's position within the company.
If you are ready to answer the million-dollar question, here are some tips on proving the ROI of CX:
• Show empathy for not only your customer but also your C-Suite
As a CX pro, you always think outside-in when it comes to customer centricity. Having empathy is crucial for understanding your customers so is for your senior management. Try to understand their environment under short-termism and find what is in it for them when it comes to allocating the resources properly.
• Make sure that you have a clear definition of "benefit"
The math of ROI is simple: ROI= Benefits-Costs/Costs. Definition of benefits can be different at different times. Some sample benefits are:
o Boost loyalty,
o Acquire new customers,
o Boost top line revenue,
o Increase share of wallet, etc.
• Choose the right analytical model
Based on how much proof you need, , you can decide on the right analytical model. Build your hypothesis and validate with data. You can use your voice of customer (VOC) program and its analytical features to create your data set for the hypothesis testing. These VOC programs helps you for real-time data collection and to run advanced analysis. Text analytics and driver analysis modules can be used for building your model. As Alterna CX, we are ready to help you in building these analytical models.
• Talk with $, not unquantifiable benefits
Your C-Suite wants to hear specifically, how your CX projects and programs made or saved money for the company. And they want the specifics in dollars, they do not want to have to connect the dots for themselves between NPS (or CSAT) and dollars.
• Prioritize the highest impact changes
There are probably many actions listed in your roadmap so make sure to prioritize the highest impact areas that will quickly validate your business case.
Conclusion
The beauty of this million-dollar question is that there is no single answer or a perfect model about it. As CX professional, you can continue to seek the best answers and create right perspectives to prove monetary impact of CX. This path is really challenging; however once you take the first step in this direction, it will be a real milestone for your CX team and company. As an ancient Chinese philosopher once said, "A Journey of a Thousand Miles Begins with a Single Step".
*https://www.cfainstitute.org/en/advocacy/issues/short-termism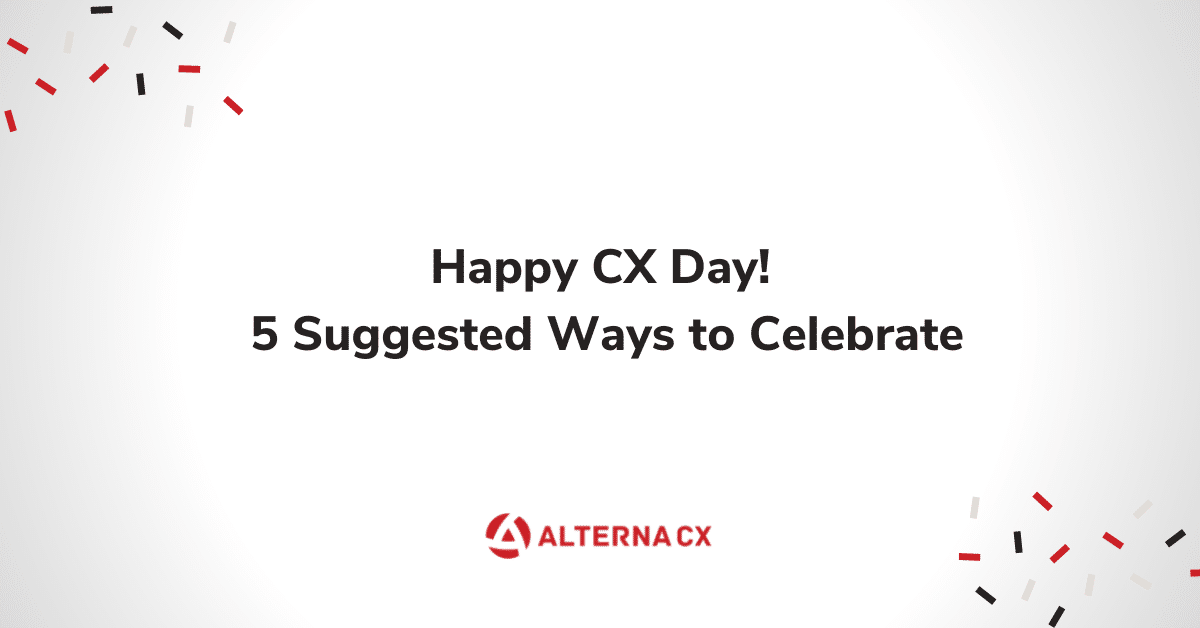 Happy CX Day! 5 Suggested Ways to Celebrate

Our favorite day of the year is finally coming, Customer Experience (CX Day).  Each year on the first Tuesday of October, as CX community globally we come together to celebrate the great CX achievements and people who make that happen. It's a day to recognize, celebrate and empower us all to focus on our customers and work towards better experiences for all of them.
This year, CX Day will be celebrated on October 5th with the theme: "CX is a Team Sport". What a nice theme for CX day!  Great CX is not just a team sport, it's a cross-team sport that requires a company-wide commitment to customer centricity.
There are a lot of ways to make October 5 a memorable day at your company. As Alterna CX, we've prepared a list of ideas to celebrate the CX Day with your team and other colleagues in your organization.
1. Plan a short team huddle with a celebratory cake.
2. Highlight CX Heroes. Share the names of the employees who get the most thank you notes from customers thru your VOC program.
3. Send a CEO video email message thanking all employees for being customer centric.
4. Host an awareness event and invite a CX guru to inspire your colleagues to deliver even better CX.
5. Post some pictures from activities on social media.
With increasing competition across industries, it is more important to understand what customers are thinking about the products and/or services provided by companies.
Voice of Customer program enables companies to systematically capture, track, and analyze customer feedback and act based on the collected insights.