Simply, Voice of Customer (VoC) refers to the process of collecting customer feedback about a business, its products and services. Many companies believe that they have a VOC program in place, because they collect customer feedback through surveys. In reality, they don't. NPS® surveys for example, are popular surveys but they are not a VoC Program (though they are generally an input into a VoC program). There is a lot more in a VoC program than simply sending out surveys.
Voice of Customer (VoC) is an important tool that helps you gauge your customer sentiments and their overall experience with your brand. When done right, it can help you see if your business is succeeding or failing in its CX efforts.
Benefits of having a VoC Program:
360-degree view of your customers' experiences in real-time;

Track and identify the key issues in each customer journey,
Get real-time insights about customer experience quality via a single platform,

Understand the drivers of customer experience;

With AI, analyze faster and smarter what your customers are trying to tell you,
Learn which factors have a higher impact on your key metrics,

Systematic actions for experience improvement;

Turn real time insight to immediate actions,
Improve the quality of your products and services continuously. 
Basic mechanism of a VOC Program:
There is basically a 3-step process for implementing VOC program:
Collection of customer feedback – Using methods like surveys, etc to gather information from your customers;

Analysis – Analyzing responses to understand root cause of dissatisfaction and impact on KPI's with machine learning;

Implementation – Acting on the insights to improve the areas of the business that will drive the biggest change.
Some ideas for a successful VOC program set-up – How to make it really work:
These are some tips from our experts for a successful VOC program set-up which helps you to turn insight into action:
Start with a clear objective:

To run any successful program, you need to know your "WHY". Before you even begin asking your customers, start asking yourself: "Why do we want to capture customer opinions and feedback?" Understand where you want to go, before you start.

Map your journeys to make sure that all critical channels/touchpoints are included:

Through journey mapping and VoC measurement, companies can pile all the information together and understand what interactions are taking place at each moment of truth and understand pain points of specific customers. A living map allows you to understand the changes in customer behaviors as well as different groups of customers with different expectations.

Use advanced technology to improve analysis capabilities:

The bigger amount of feedback that you collect, the more difficult it gets for your CX team to process. This calls for the deployment of AI. Text analytics, churn prediction and speech analytics are some areas where you can use machine learning algorithms in your VOC program.

Focus on the improvement trend rather than the score itself, and close the loop:

The most clicked item in your VOC dashboard might be NPS or CSAT score. These metrics are main outputs of the program; however we believe that focusing on the improvement trend rather than the metric itself is a healthier approach to manage your program. Designing the improvement loops are necessary to continuously improve your customer experience.

Break down silos and build cross-functional teams:

Customer experience is everyone's job in the organization so from frontline to top management everyone should access to the VOC program and dashboards transparently.
Case study: How IuteCredit streamlined its VoC
Program in 5 countries with Alterna CX
With over 200,000 active customers across Moldova, Albania, North Macedonia, Bulgaria, Bosnia, and Herzegovina, IuteCredit is a leading European personal finance company. IuteCredit offers customer loans and insurance alongside its hire-purchase products.  
IuteCredit improved customer experience across five countries and transformed its company culture through a streamlined Voice of the Customer (VoC) program. Let's have a look how that was possible.
The Challenge:
Having multiple business units across five countries, IuteCredit struggled with establishing a systematic and streamlined VoC program. Customer feedback was collected manually, making the program prone to biases and uncertainties.  Main effort was getting the score properly rather than understanding the customer and taking actions in a continuous improvement loops.
IuteCredit ran six different Voice of Customer programs with disparate methodologies in six different languages. As a result, the Customer Experience team focused most of their efforts in establishing central reporting from the various Voice of Customer programs, diverting their focus from implementing solutions based on real-time customer feedback. However, IuteCredit wanted to set up a system for improvements based on feedback and not a system that only measures consumer experience.
The Solution:
Alterna CX partnered with IuteCredit to design and implement an identical Voice of Customer solution in five countries in one month. Alterna CX enabled data connections to be fully automated where surveys are triggered automatically in predefined touchpoints on the customer journeys. IuteCredit reached a response rate between fifteen to twenty percent using an automated SMS channel for sending surveys. All results from the surveys were immediately visible in Alterna CX dashboards; hence every manager was instantly informed of critical interactions. As a result, IuteCredit improved customer service by implementing a more empathetic approach towards the customer, by training service personnel and by implementing new processes for follow-up and continuous improvement. IuteCredit experienced a 10+pts NPS uplift within six months and 18+ pts uplift within the first year aftergoing live with Alterna CX. 
Alterna CX offers convenient triggers and reminders in the workflow for detractors. For example, after analyzing  the pain points reported by detractors, IuteCredit avoided future frustrations by altering the method of informing customers with SMS confirmations when the contracts end. In addition, detractors' feedback helped IuteCredit identify critical CX issues and take improvement actions such as changing branch opening hours, increasing partner network and ATM network within branches, changing the process of loading cash to ATMs and launching a mobile app upon confirmation from customers.
All these changes triggered a "transformation" in which IuteCredit managed to change the mindset of its employees from bottom up when it comes to customer centricity.  This mindset change reflected itself in continuous CX improvements, customer satisfaction uplift as well as solid business outcomes.
If you want to hear more about the IuteCredit best practice case, you can also watch our Webinar recording with Andrus Kotri, Customer Experience Manager at IuteCredit here.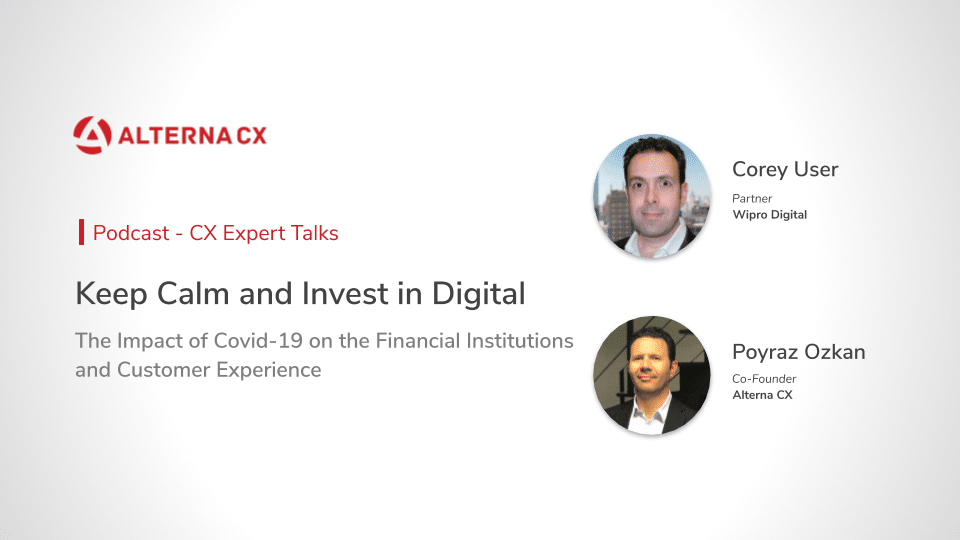 Podcast
Keep Calm and Invest in Digital
In our expert opinion podcast, Corey User, Partner at Wipro Digital, shared his insights on the short and long term effects of Covid-19 on the financial institutions and why listening to the voice of the customer in unprecedented times is crucial. Listen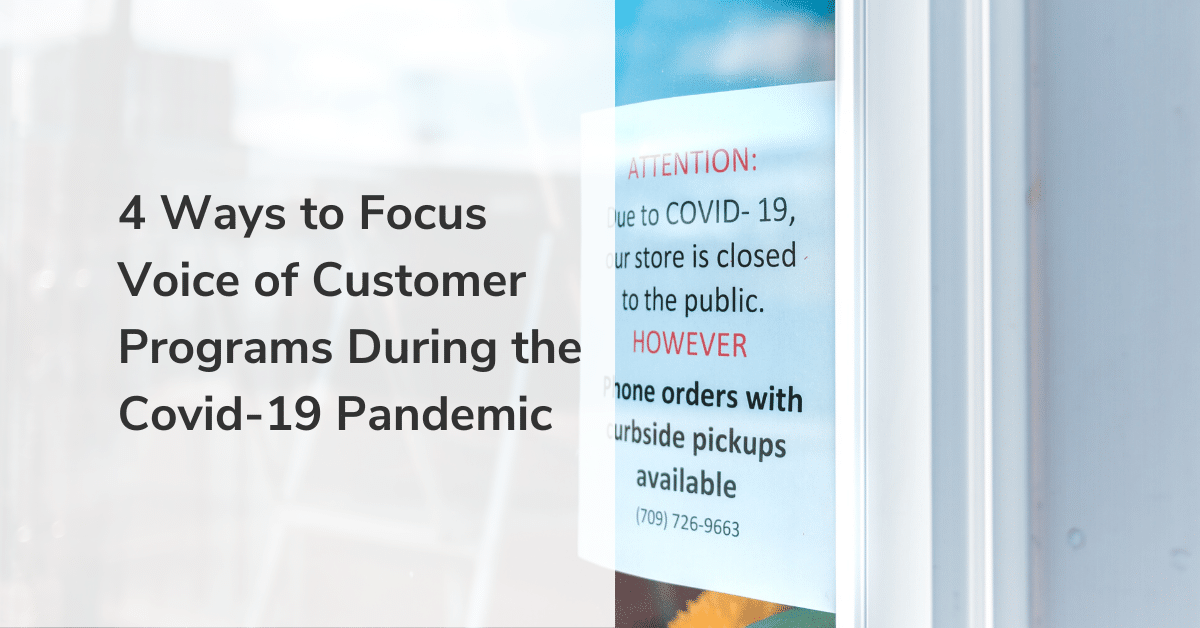 Blog Post
4 Ways to Focus Voice of Customer Programs During the Covid-19 Pandemic
As the first wave of the impact of the pandemic is experienced, we see some changes in this initial response. Based on our conversations with our clients in banking, retail and insurance, we wanted to share approaches and actions regarding Voice of the Customer programs. Read More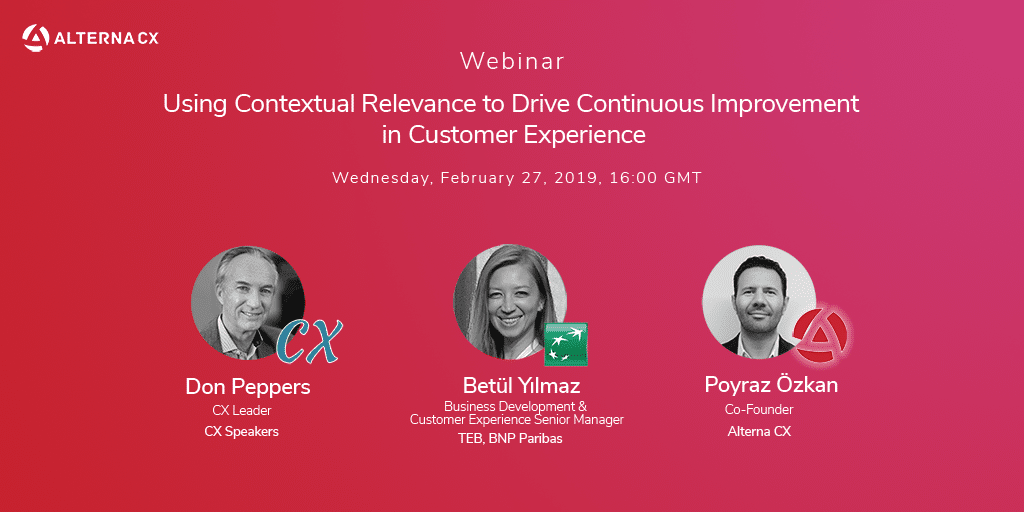 Webinar
Contextual Relevance to Drive Continuous Improvement in CX
How can companies leverage voice of the customer (VoC) to understand the context of the experience and improve customer journeys? Watch now
 With increasing competition across industries, it is more important to understand what customers are thinking about the products and/or services provided by companies.
Voice of Customer program enables companies to systematically capture, track, and analyze customer feedback and act based on the collected insights.