Do you try to win your customers back with a free item or discount when they are unhappy with the service agent's attitude? Do you consider to bolster staff training? Have you reconsidered your return policy and made it more customer-friendly, with relatively high number of customer complaints, e.g. "Why do you make it so difficult to return items?" What do your customers feel or think when you stay silent? In today's customer experience expectations, there are real costs associated with ghosting your customers and failing to close the loop. The costs appear in various forms including poor brand reputation and negative word-of-mouth. Taking proper and timely actions is not a nice-to-have any more but a must have in today's reality.
Closing the Feedback Loop: Definitions and Strategies
The majority of voice of customer (VoC) programs depend on gathering information from various channels including customer surveys and social media. That feedback is processed in combination with financial data and CRM. However, fast action in response to feedback is the crucial step most neglected by companies, despite its proven effectiveness for building customer loyalty when done properly. Closing the loop means customer engagement that demonstrates you've heard them and built what they requested. It is about capturing the micro-moments of customer behaviors. The closed loop process gives you credit for building what your customers want. Finding the root cause of the problem and eliminating that cause is key for structural problem-solving. Otherwise, the same problem is likely to surface again down the road. Moreover, it's a missed opportunity for your business. When your organization provides a solution to a customer's issue but doesn't address the root cause of the problem, that's insufficient because you've failed to learn from the problem. To solve the problem permanently means to use closed-loop feedback for continuous improvement purposes and avoid the same problems in the future.
Real-World Examples to Inspire You to Close the Loop with Your Customers
A strategy for closing the loop means resolving any case in real-time with the aid of smart systems. The essence of a successful close-the-loop program is real-time customer engagement capability powered by AI-based CX automation platforms. There are two important solutions that your customer experience management system should be capable of:
Real-time customer feedback management: It is the ability to hear your customers and extract actionable insight for making meaningful connections with them in real-time. It requires robust integration and real-time analytics driven by structured and unstructured feedback. Here is an example for real-time customer feedback analysis powered by Alterna CX's NLP-based automation algorithm: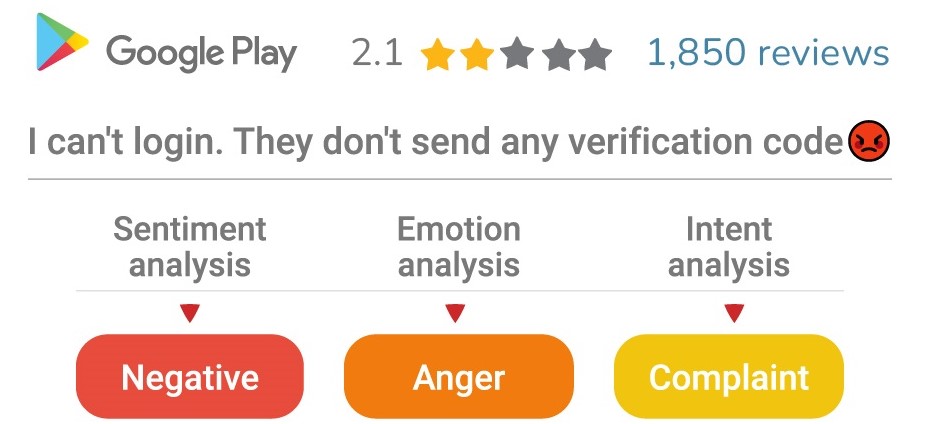 Alert and workflow management: It is the systematic management of alerts and workflows, which is fueled by natural language understanding. The system automatically notifies frontline employees' tasks that need attention, saves time, and helps improve decision-making. Here is an example of Slacking customer feedback based on the rule of "send customer feedback to digital operations channel & emotion analysis: anger, intent analysis: complaint, topic analysis: web or mobile / ease of use". This capability comes in handy when you integrate Slack with Alterna CX.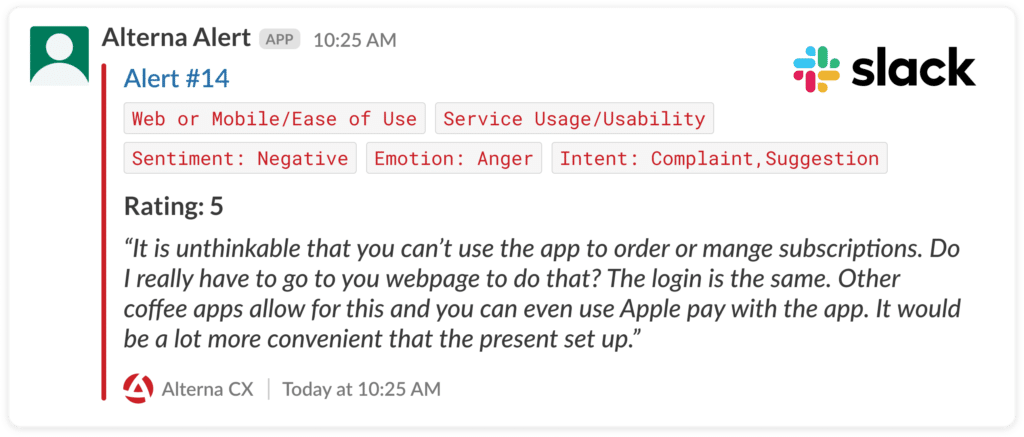 FAQs on Closing the Loop
What is inner loop?
Inner loop is the engagement between an employee, especially on the front line, and a customer. This contact addresses and resolves instant, specific issues such as information exchange or customers' short-term dissatisfactions. It refers to closing the loop at its most immediate and granular level.  This type of engagement is mostly related to individual or team-based achievement, reflects on KPIs of an employee and his supervisor.
What is outer loop?
Excelling customer experience means going beyond one-to-one interaction that interests a single department. Sometimes close the loop efforts are not enough to resolve pain points or dissatisfactions in a timely manner. Most of the time the problem is addressed to other teams and becomes a project that needs to be carried out by cross-functional teams throughout the organization in the mid or long term. Hence, companies need to close the outer loop.  The term "outer loop" refers to the process of removing frictions from customer journey touchpoints for continuous improvements based on learning and understanding patterns derived from the inner loop. A successful outer loop drives a company-wide culture to be more customer-focused and is the foundational constituent of organizational achievement.
What is the main difference between inner loop and outer loop?
The inner loop is mostly associated with specific or systematic customer issues. One department can deal with those issues by closing the inner loop.  It is nested inside the outer loop. On the other hand, in outer loops, more than one department is involved, resulting in customer journey optimization based on lessons taken from closing the inner loop.
To learn more about closing the customer feedback loop please visit Voice of the Customer