NPS is a simple metric to measure, but it is not that simple to improve NPS score. Higher NPS score does not always guarantee better performance in business KPI's. Yet, this is not to say that NPS does not have business impact. On the contrary, companies with robust NPS programs have managed to increase sales, customer loyalty and promotion of their brand in plenty of cases. To the extent that they overcame challenges such as:
• Incorporating journey view into their customer feedback management
• Automating the generation of quality insight
• Understanding and acting on true drivers of satisfaction with the most impact on business KPI's
In this blog post, we will address the above three challenges, among others. They may not seem easy to manage at first glance. The good news is that AI-based technologies have now provided CX professionals with a new playground to address these challenges.
Journey view rather than single transaction view: Most companies measure and analyze individual interactions like making an online purchase, calling the call center, visiting a store, etc. Customer satisfaction is then quantified in the moment with a metric such as NPS or CSAT derived from asking the customer about that specific transaction. Yet customer perception about a brand goes beyond satisfaction from a specific transaction and often requires a view of sentiment history coming from all interactions along the CX journey. With new technologies that can process big data, it is now possible for companies to measure and analyze satisfaction data among a myriad of interactions across many CX journeys and touch points. For an e-commerce retailer, a customer that logs in 3 times for research, adds the selected item to the shopping basket but waits 1 week until the actual purchase and then selects same-day delivery at check-out might reveal a lot more CX related insights than a single online purchase.
Automation of improvements around qualitative feedback: In a transactional NPS survey, typically a few questions are asked to the customers along with the NPS question: Employee attitude, process speed, quality of service, etc. Yet, there will always be customer satisfaction inquiry areas that will be left out in these surveys – unless open-ended qualitative feedback is asked such as the "Why?" question. In our experiences, at least 20+ topics are discovered in a typical NLP (natural language processing) analysis of qualitative feedback from customers. This helps CX professionals uncover hidden dissatisfaction areas that they never thought of. AI-powered technologies help them keep abreast of customer satisfaction changes in a lot of possible areas, and trigger automated improvement action when needed. In one example, a leading European retailer harnessed the power of NLP for customer feedback sentiment analysis, which helped them improve their sales and marketing mix – resulting in a 30% revenue increase within 12 months of deployment.
Acting on satisfaction drivers with most impact: According to a study by Bain & Company, Net Promoter leaders outgrew their competitors by a factor greater than two times on the average across industries. In another study, retail promoters spent 3.5 times than detractors. And another found that promoter customers are eight times more valuable than detractors in a bank. Although such figures are good indicators of CX impact on business outcomes at a high level, they are not enough to guide us in decision making. We need to know which specific areas have how much impact on satisfaction, and what specific actions need to be taken for improvement. Recent AI technology is helping with both. As an example, an airline company can now act on the insight that 1-point increase in satisfaction from leg space is expected to increase expected NPS by 2.4 points on average in intercontinental flights. Whereas in domestic flights cabin staff attitude is the main driver to improve as it is likely to improve NPS by 3.1 points!
To sum up, with robust NPS programs, CX professionals can improve their business results while increasing their NPS scores. Through, analyzing satisfaction data among other valuable interactions, CX professionals can continuously improve specific journeys. Qualitative feedback and NLP analysis enable businesses to identify previously unknown dissatisfaction areas. Finally, understanding the real driver of satisfaction can make a significant impact on business KPI's.
To learn more about how AI technology can have an impact on your NPS program, you can contact us directly by clicking the Get Started button below.  
Case Study
Improving Customer Experience
The number one home improvement retailer and part of Kingfisher Group in Europe increased its Net Promoter Score by 60% only in nine months and boosted its customer-centric culture.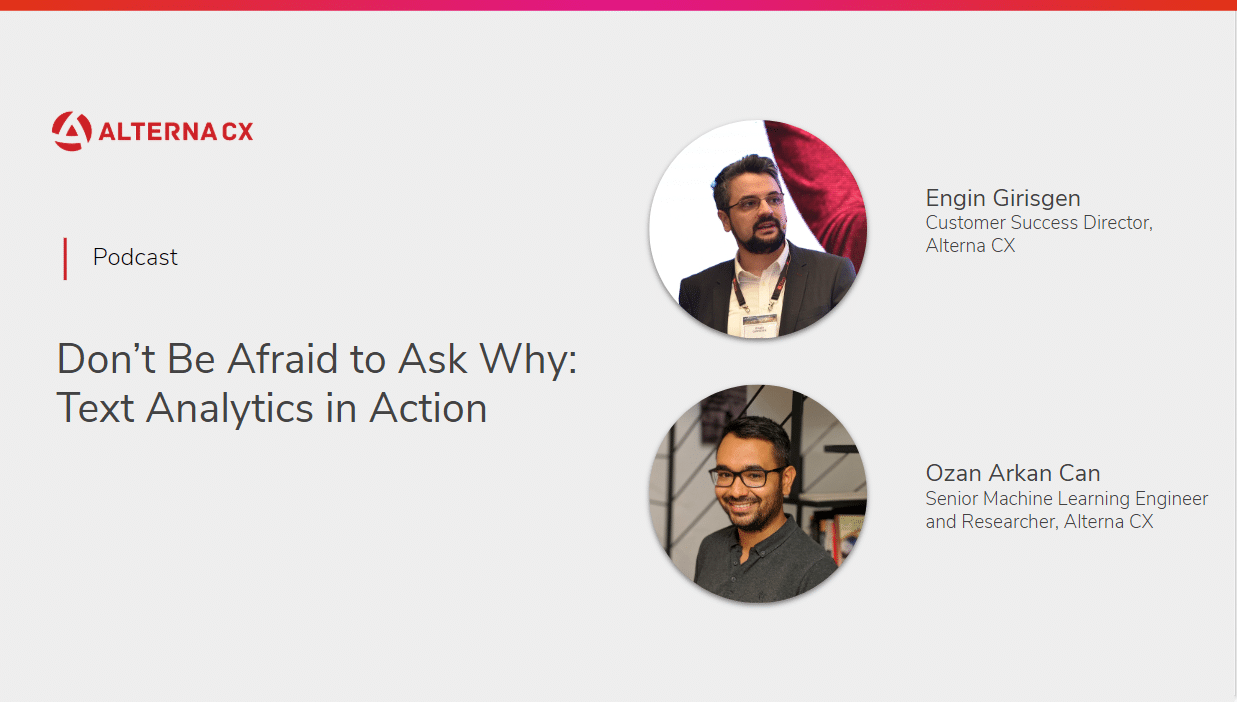 Podcast
Don't Be Afraid to Ask Why: Text Analytics in Action
Reveal the value behind the unstructured data
 With increasing competition across industries, it is more important to understand what customers are thinking about the products and/or services provided by companies.
Voice of Customer program enables companies to systematically capture, track, and analyze customer feedback and act based on the collected insights.
See Alterna CX in action
Contact us to learn how Alterna CX can help you get CX results