4 years in a row Amazon has been listed as the loyalty leader in the US according to Brand Key's latest annual loyalty study. The New York-based brand loyalty and customer engagement research consultancy examined 1,121 brands in 109 categories this year. Rounding out the top five were: Netflix, up four spots to #2, for Video Streaming; Amazon again, up four spots to #3, for Video Streaming; Apple, up four spots to #4, for Smartphones; and Domino's, up ten spots to #5, for Pizza.
You can access to full list here.
New report for 2021 is expected to be released soon and we are curious to see how ranking will change.
This is the loyalty league, and these brands were among the most likely to meet customer needs and expectations in their respective categories. These companies are the loyalty leaders! What puts them at top of the list is simple: for these companies; Customer Loyalty is more than a marketing term or KPI to be measured but it is an asset to be developed.  
Why is Customer Loyalty Important?
Here are some good reasons why becoming a loyalty leader is important;
• Acquiring a new customer is more expensive than retaining an existing one
• Loyal customers produce higher conversion rates
• Loyal customers visit regularly and spend more
• Operational costs (Complaint handling etc.) of loyal customers are lower
• Loyal customers are advocates of the brand and they promote the brand to their friends & families for free.
All these help companies drive revenue and growth in a healthy way so loyal customers become an asset in the company balance sheet. 
Then the question is what's the right path to become a loyalty leader. Here you have 5 Concrete steps to become one:
Step 1: A clear business objective
You need to have crystal clear understanding about your business objectives that you are trying to achieve. Who are your customers, what are their segments, what are their expectations and what type of experience do you want to deliver? These are critical questions to be answered! Remember that you must be keen on delivering your promises. But first you need to make sure that your company is fully aligned and committed to the ultimate goal. Amazon seems to be very clear about the vision statement: "Our vision is to be earth's most customer centric company; to build a place where people can come to find and discover anything they might want to buy online."
Step 2: Assess your current performance
No matter where or how you start, the journey starts by accepting that customer experience isn't defined by you. It's defined by your customers. You need to have an outside-in approach and assess yourself from your customers' eyes only. Ask what they need and how you perform in a structured way. There are various metrics to measure the loyalty score and Net Promoter System can be a good fit. Moreover, it would be better to build a voice of customer program to get customer insight as much as possible and analyze customer feedback continuously. After listening to customers who say that they want to get pizza delivery on the beach or at a game, Domino's announced its plan to deliver pizza wherever their customers are. The brand listened to a customer need and built a product around it – a smart CX move executed in a bold way.
Step 3: Develop a proper customer experience strategy
Customer Experience Strategy is an organization's complete plan to enhance the experience of their customers both when they are interacting with the organization in general and when they are using its products and services. It defines what you need to do and how you need to do it in order to deliver those experiences. It also helps you to have a better understanding of what resources are required to make this happen and guides the prioritization and allocation of the activities you'll need to undertake. Netflix's personalization approach would be a good example here since the level of personalization experienced by users is what keeps them coming back for more.
Step 4: Turn your CX strategy into the action – Design the moments that matter
The surprise about great experiences is that they are hardly forgettable and occasionally remarkable. And we can be the architect of the moments that matter! Your CX strategy guide should turn into the set of experience designs. These designs cover customer journey maps, "wow moments" and are consistent at all touchpoints. Customer experience during the whole customer life cycle is all that matters and Apple is very clear with that. Once, you are inside an Apple Store, you can feel the brand value throughout their store design.
Step 5: Continuously improve your customer experience
Being good enough is not good enough anymore so you have to continuously improve your customer experience. You might be happy with your customer loyalty score but you need to keep your growth mindset. Continue to listen to the voice of your customers, measure & understand what's missing and monitor company level's maturity. This would help you identify the gaps for reaching to your loyalty leader goal. Once you find the root causes which hold you from delivering better experiences, then coordinate your efforts around your commitment as described in the step 1.
Conclusion
Creating loyal customers is definitely about building relationships. As with any relationship, it takes time, effort and energy to establish trust, and an ongoing investment to keep the relationship afloat. There is one simple truth about loyalty; you cannot buy loyalty so you have to earn it. To improve customer loyalty, look into your customer experience and do everything you can to make your customers' lives easier and hopefully, more enjoyable.
Alterna is ready to help you in your journey for becoming a loyalty leader…
Alterna can help you manage your customers' loyalty along their experience journey with its voice of customer (VOC) capabilities. Below are the Alterna modules that systematically capture, track, analyze customer feedback and act based on the generated insight:
1. Experience Data Management: Shaping up the customer-oriented strategy and CX roadmap starts with collecting the right data in the right way. With Alterna, you can collect all your survey and non-survey customer feedback on their interactions using a single platform. You can process data related to all your products, which include not only survey data but also customer comments or score data.
2. Insight Center: Measuring customer satisfaction, determining the root causes of dissatisfaction, producing and validating hypotheses are some of the most important steps before making improvements. With the Alterna Insight Center, you can understand the main drivers that affect satisfaction, proactively examine and predict the optimum combination of satisfaction among different CX topics using "what if" analysis, with our natural language processing-based models. You can manage and monitor the production and prioritization of improvement projects from a single screen.
3. Action Center: It is very important that you take control of the entire customer experience journey and that you can quickly intervene when dissatisfaction happens. With the Alterna Action Center, you can communicate dissatisfied customer cases and alert the related people in your organization within a few seconds. Quick customer contact and closing the loop is often the most effective approach to increase customer loyalty.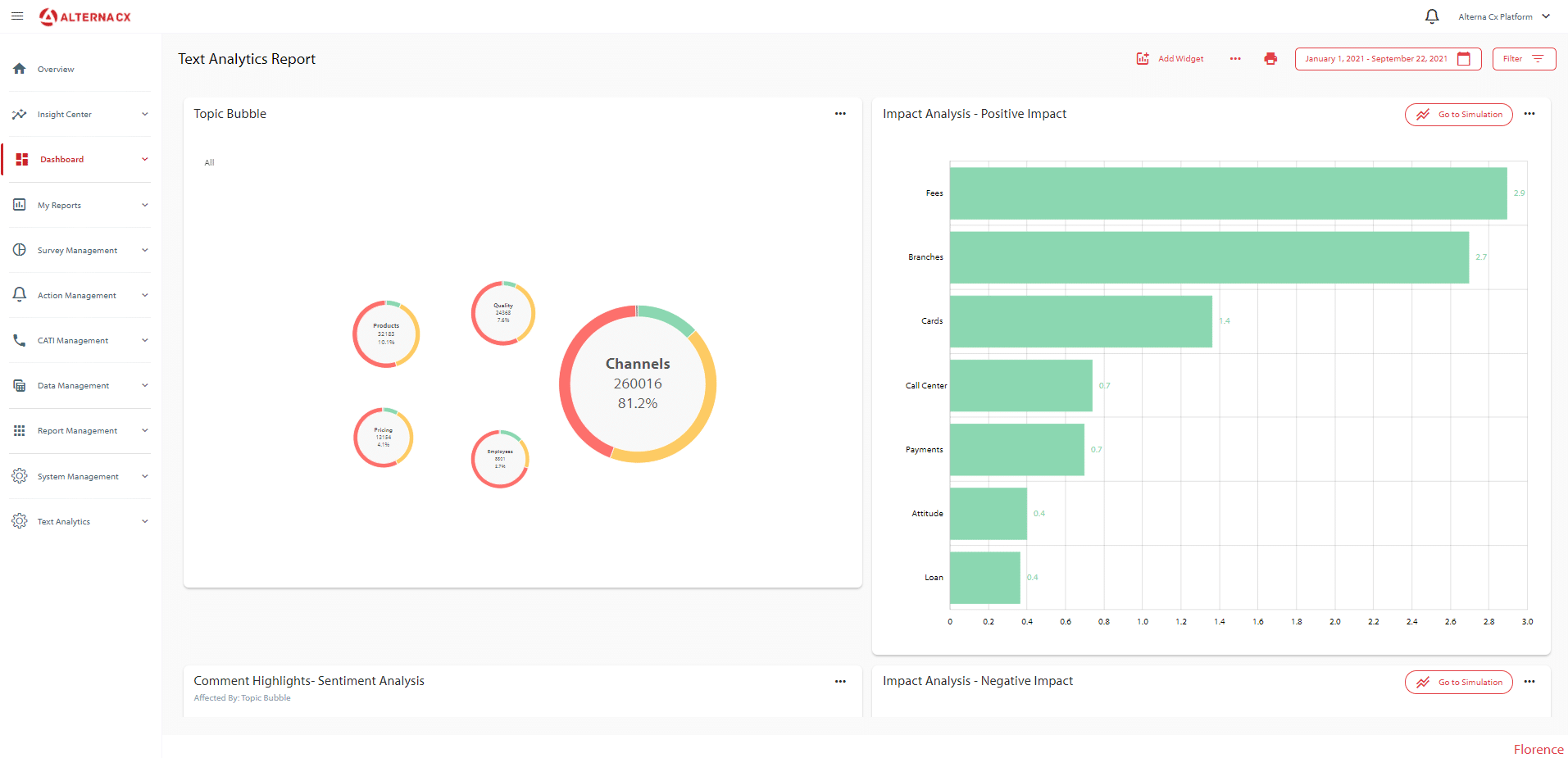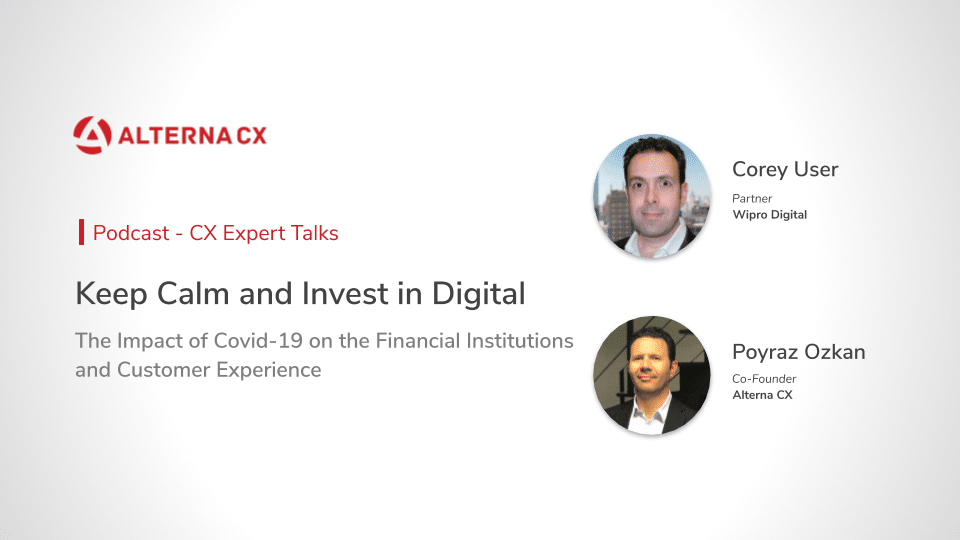 Podcast
Keep Calm and Invest in Digital
In our expert opinion podcast, Corey User, Partner at Wipro Digital, shared his insights on the short and long term effects of Covid-19 on the financial institutions and why listening to the voice of the customer in unprecedented times is crucial. Listen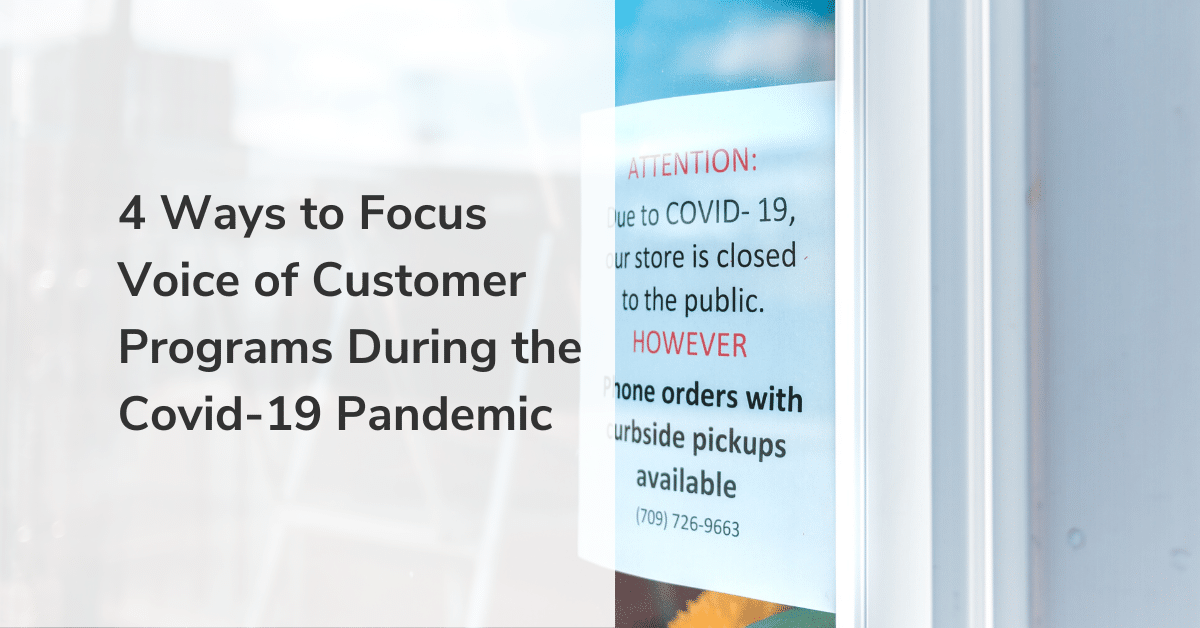 Blog Post
4 Ways to Focus Voice of Customer Programs During the Covid-19 Pandemic
As the first wave of the impact of the pandemic is experienced, we see some changes in this initial response. Based on our conversations with our clients in banking, retail and insurance, we wanted to share approaches and actions regarding Voice of the Customer programs. Read More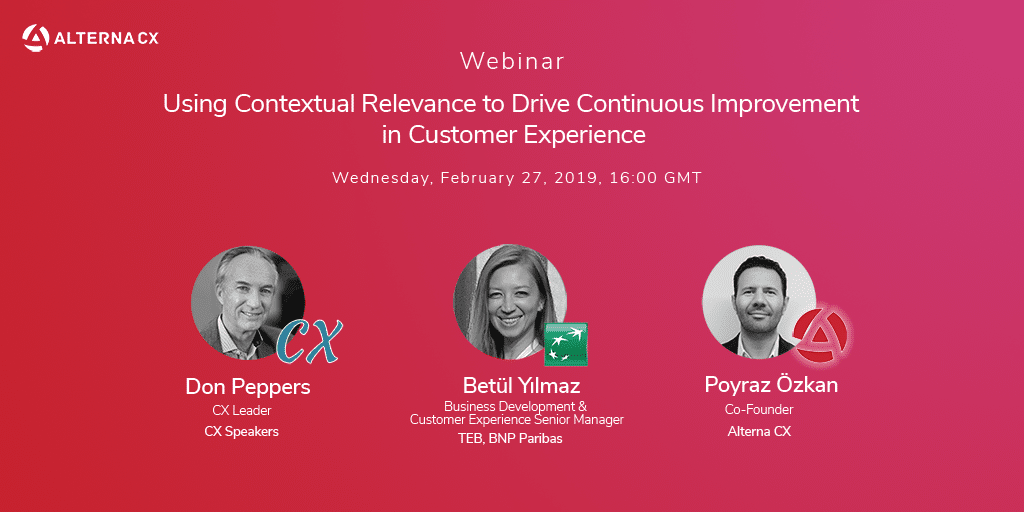 Webinar
Contextual Relevance to Drive Continuous Improvement in CX
How can companies leverage voice of the customer (VoC) to understand the context of the experience and improve customer journeys? Watch now
With increasing competition across industries, it is more important to understand what customers are thinking about the products and/or services provided by companies.
Voice of Customer program enables companies to systematically capture, track, and analyze customer feedback and act based on the collected insights.