The ongoing disruption created by the Coronavirus (COVID-19) outbreak is affecting everyone around the globe. Organizations and businesses are working remotely, schools have moved to online classes and individuals have been staying home under quarantine or adopting social distancing measures.
In times like these, where organizations and businesses are working remotely, enabling a platform for communication between employees, understanding their needs and supporting them has become a priority for HR leaders. While some companies have been listening to employee experiences yearly, some have adopted a more frequent approach (every couple months) in recent years. However, none of them expected to be in the current situation and adapt in a week to continuous communication with employees.
It is more critical today to improve employee engagement as a lever for higher productivity and increase motivation to move forward as a company. Here are some proactive measures companies can take to enable better engagement.
• Pulse management and feedback surveys are essential in transition periods. Through pulse surveys, you can increase check-points for engagement, measure not only eNPS but also how employees are reflecting on the current situation, thoughts on measures that have been taken as the company and their motivation levels. In our new working environments, HR leaders can ask employees whether they have sufficient equipment they need to be productive and continue their performance as if they were at their office space. Another example, rather than sending out a survey on a daily/weekly basis, companies can create a platform for employees to share asks and needs on company communication channels. HR leaders can then identify the overall sentiment or needs of employees.
• This brings us into the collection of text data. Text data collected from employee surveys are a great source of insight. Managers and human resource teams can learn continuously from leveraging text feedback. It enables meaningful and actionable classification of topics of distress and insight on actions taken every day during the transition period.
HR professionals can use NLP based automated topic analysis, which can granulate insights. Here, HR teams can either track "the topics of their choice" or have AI to identify topics of importance or even both. As an example, text analytics algorithms can identify a topic "communication"; they can also show what is important in communication. Is it more transparent communication or better team communication or if it is less communication during the week. Also, by analyzing the structured feedback like engagement score or eNPS with employee comments, HR leaders can start analyzing the root cause of engagement and which factors have the most impact on engagement scores.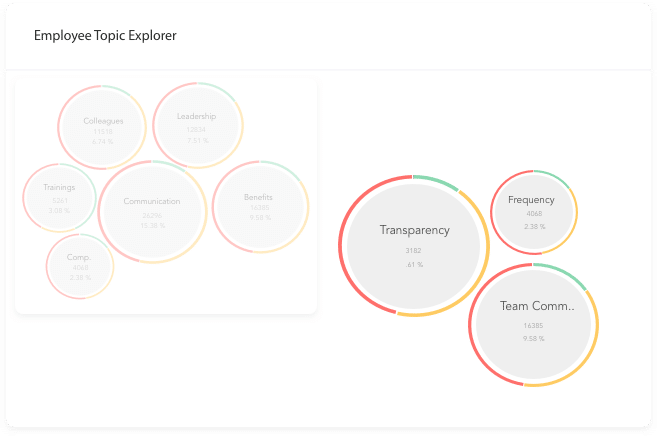 With the increasing influence of agile in the way of working of organizations, it is more critical today to improve employee engagement as a lever for higher productivity and retention of key talent.
See Alterna CX in action
Contact us to learn how Alterna CX can help you get CX results